Puppy Video 1
Puppy Video 2
Puppy Video 3
Puppy Video 4
Puppy Video 5
All puppies from this litter have been placed and are waiting to go to their forever homes.  We have enjoyed raising them and can't wait to hear how they adjust to their new homes.  We named the pups after bridges in North Carolina.
BOYS (4):
TAYLOR (Yellow), GIBSON (Red), DAUGHTRY (Blue), PARKER (Pink)
GIRLS (5):
STARLING (Lt. Blue), ASHLEIGH (Orange), BEVAN (Green),
JERNI (Peach), LINDSAY (Lt. Green)
~~~~~~~~~~~~~~~~~~~~~~~~~~~~~~~~~~~~~~~~~~~~
AMARILLO
Dam: Maple Grove Farm's Amarillo
Registration: ESCR, UKC
Other health tests: MDR-1 normal/normal
Description: Amarillo is our all around working farmdog with natural ability to drive, gather, pen, do chores, go camping, accompany us on horseback rides, or move a bull if necessary.  She is easy going, sweet natured, and lives to please.  Out of her last litter 7 puppies went to farms/ranches- all 7 are working and doing great – the other two are herding when they have opportunity.
Pedigree: Maple Grove Farm's Abilene x Wingler's Dillon
---
DROVER
Sire: Maple Grove Farm's Rimrock Drover – HTC – D
Registration: ESCR, UKC
Other health test: MDR-1 normal/normal
Description: Drover is calm, steady, eager to please, observant, listens well, patient, and is kind to the stock.  He works daily on our small farm.  He is with me constantly.  He trail rides with us and camps.  Drover alerts us to strangers but then greets them in a nice way, paying attention to how we are reacting to the strangers. .
Pedigree:
Shepherd's Way Rimrock Lone Firelight x Butcher's Foothills Elsa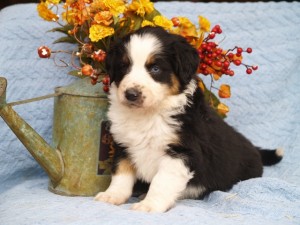 This is Drover as a puppy.  What a handsome fellow!  I fell in love with him immediately.  [Photo courtesy of rimrockenglishshepherds.com]
~~~~~~~~~~~~~~~~~~~~~~~~~~~~~~~~~~~~~~~~~~~~